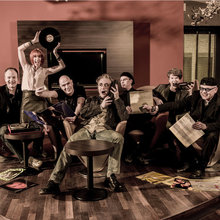 Still Collins - 25 Jahre Still Collins – The Best of Phil Collins & Genesis Live!
Rathausplatz 9
46414
Rhede
Event organiser: Göttlicher Entertainment GmbH, Brunnestraße 2, 68526 Ladenburg, Germany
Select quantity
Information on concessions
Rollstuhlfahrer und Schwerbehinderte mit "B" im Ausweis zahlen den Normalpreis und dürfen eine kostenlose Begleitperson mitbringen.

Bei freier Platzwahl: Begleitperson benötigt kein eigenes Ticket.

Bei platzgenauen Karten: Diese Karten sind unter 0180 60 50 400 (0,20 €/Anruf inkl. MwSt aus dem Festnetz, max. 0,60 €/Anruf inkl. MwSt aus den Mobilfunknetzen) erhältlich.

Für Rollstuhlfahrer werden die Plätze am Gang gebucht.
Kultursaal Rathaus Rhede - Rheder Ei
Rathausplatz 9
46414
Rhede